Soon the commercials will start.
Nevermind, they already have!  
It's that time of year–the Holiday Blitz.   My kids are pretty good about picking things.  I compiled a list of toys and Games they are interested in this year.  (Girl 7 and Boy 11)   I hope this could help give someone else ideas to ease their Holiday headache.
This one is my daughter's suggestions.  She is 7 and loves a lot of different things.    Here are some items she is looking forward to this Holiday Season.
Littlest Pet Shop   My little loves this toy line.  She is all about her "Pets"
They have a ton of new figure packs out in the different stores.   They also have playset buildings that you can stack.
My daughter has loved Monster High for a couple of years now (she has a massive collection) and they will be having some new dolls out.  So far they have the Freaky Fusion Dolls and the Movie coming out soon.
They have commercials out with some of the dolls like (Avea Trotter, Sirena Von Boo , Bonita Femur)

Also new to Monster High is the Catacombs Playset!  From the videos I have seen this set is going to be Large.
(image from gearforkids.net)
There is also a Freaky Fusion Recharge Chamber with Frankie Stein Doll.  Again, if you have seen the commercials, you have probably seen this.  It is cute and makes her hair stand up.  Maybe combine it with a science lesson on static electricity?
Finally, the new line called Haunted should be showing up before Christmas.  These dolls are very cool!  They have a translucent, ghost-like, appearance.  Keep an eye out for these.  (and the exchange student dolls)
Vandalla Doubloon, Porter Geist, Kiyomi Haunterly, River Styxx, Haunted Draculaura, Haunted Clawdeen Wolf, Haunted Twyla.
Along the same lines as Monster High is the Ever After High Dolls.  These are the  high school aged children of popular Fairy Tale Characters.  I am not going to list a ton of these (although there are) but I will mention a couple that she is wanting.
The Ever After High Hat-Tastic Party with Madeline Hatter.  The playset comes with one doll (Madeline Hatter) and you can buy the other characters separately.
 (image from cammietoysandloves.blogspot.com)

Another Playset:  Thronecoming Briar Beauty Doll and Furniture Set.
(image from everafter-high.com)
Of course there are tons of gorgeous dolls in this line.  You can find them in stores.
It isn't just one type of doll now.  No.  Lalaloopsy exploded out into other areas this holiday season.   Besides the hard plastic, button eye, dolls they have a fantastic line of new items.
We did a review on a couple of these HERE   She loves these.  The dolls are cute!  Some have extra outfits and their hair changes color when dipped in cold water.   What is great about these is that the outfits are easy to change and the shoes go on and off easily (shoes on some toys can be a nightmare!)  The prices are not bad either.
Two different price points.
Large set with extra set of Pajamas and Hair changes Color  (Jewel Sparkles, Mittens Fluff N Stuff, Bea Spells-A-Lot, Pix E. Flutters, and Walmart has one called Suzette La Sweet)
Packs without extra pajamas (Crumbs Sugar Cookie,  Peanut Big Top, and Spot Splatter Splash)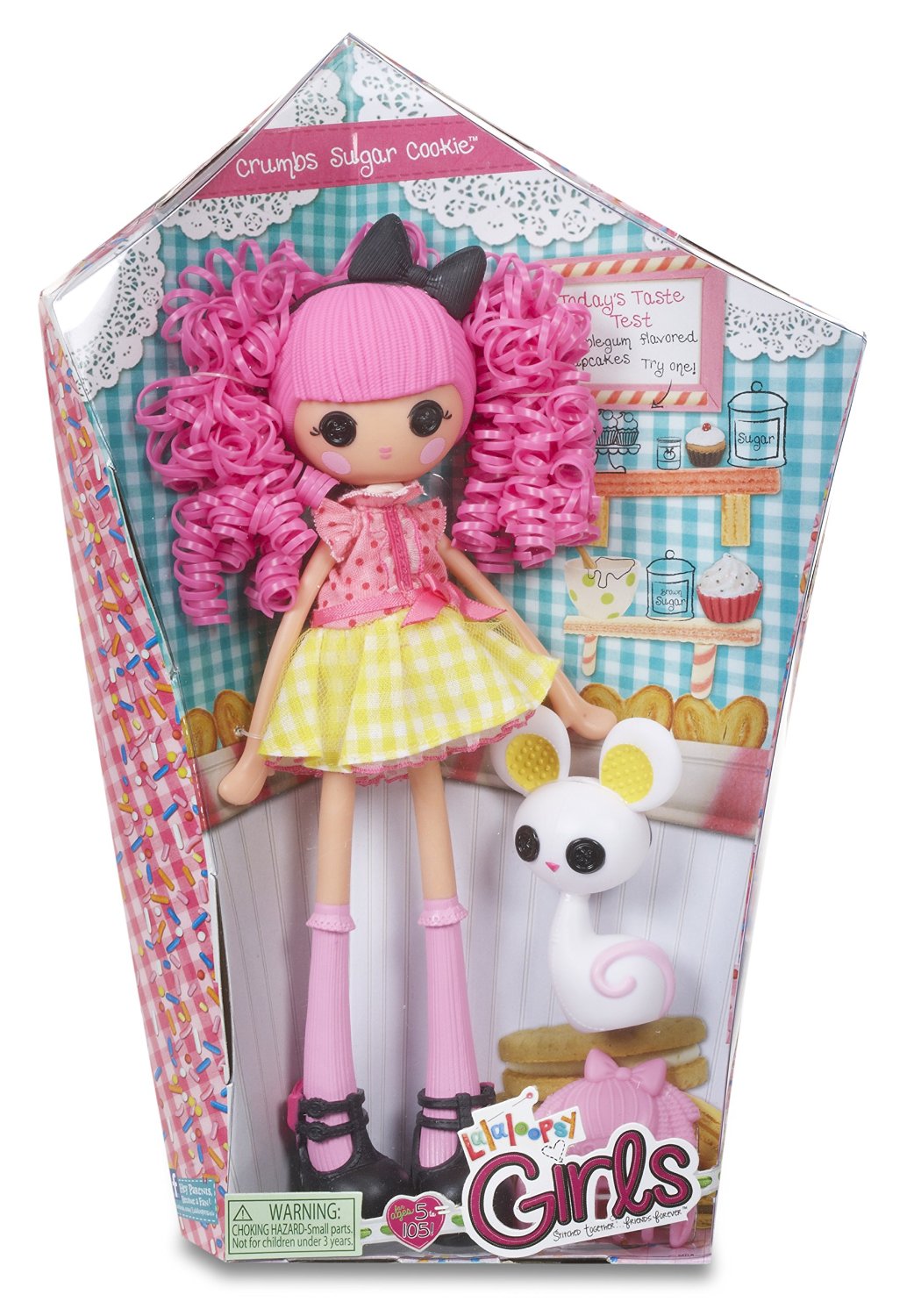 There is also a 2 Pack Coming with Cloud E. Skies and Storm E. Skies
(image from www.mommieswithcents.com)
My daughter went nuts for this.  Easy bake type oven combined with lalaloopsy.  It was a must on her list.
These are cute.  They are tiny hard plastic figures.  They have cute houses you can get with them as well.
(image from www.mommieswithcents.com)
Next up is Zoomer the Interactive Puppy   Again, thanks to the wonders of commercials, my daughter found something else to love.  This is actually a cute toy that you can "train" to do various things.
(image from canwegetapuppy.com)


If Zoomer is out of your price range there is also the Zuppies choice (but they are not voice activated)
(image from www.canwegetapuppy.com)


Next up.  Shopkins!  My daughter is obsessed with Shopkins!  She LOVES them.   This is another topic we reviewed recently  HERE
They come in 2 packs, 5 packs, and 10 packs as well as some playsets.  They are hard to get though.  Right now they are carried by Toys-R-Us and Target.  You can also get them on Amazon.
These little figures are adorable!
There are also a few play sets out.   The prices are much cheaper in store.
The Small Mart  and some other small sets.  These fly off the shelves!  Get the while you can!
With the new Equestria Girls Rainbow Rocks movie coming out a lot of girls are excited about the new dolls, especially the singing ones.  There is even a stage playset.   They also have some new regular dolls like Aria Blaze and Sonata Dusk (2 pack), Fluttershy, DJ Pone-3, and more!
Now Disney Infinity 2.0.  My kids both loved the first version and they are both excited about the new one.  My daughter is looking forward to Black Widow, Rocket Racoon, and Groot.
There are 2 versions of this.  One version comes with the Marvel characters
You can also get the version with Disney Original character Toy Box Starter Pack  (Merida and Stitch)
(image from www.highdefdigest.com)
There are going to be many figure packs (both Marvel and Original Disney Characters)  Like Maleficent, Donald, Tinkerbell, Venom, Groot, Rocket Racoon, Captain America and more)

Squishables!  What are Squishables you ask?  They are AMAZING balls of fluff and awesomeness!  My kids LOVE these.  You can get them in a smaller 7″ size or the larger 15″ size.   They are so soft!   We are lucky enough to have the Cinnamon Bun, Waffle, and Pancake)
I know she has her eyes on the Macaroon and Red Velvet Cupcake. They have all kinds of choices, animals, food, mythological critters.

The In Demand Frozen toy.  From my understanding the Princess Frozen Snow Glow Elsa Singing Doll is going to be popular.  Elsa's dress lights up, she says 15 phrases and she sings… so it is the perfect trifecta of Holiday Awesomeness.
(image from money.cnn.com)

There are a bunch of ideas to get you started.  I will be adding as new things pop up (you know how the closer it gets to the Holidays the more commercials they will see)