A couple days ago Mattel announced their Monster High / Ever After High exclusives for the upcoming Comic Con International (aka the San Diego Comic Con.)  There will be two Monster High doll offerings this year.  First up is
Robecca Steam and her father Hexiciah Steam.  I'm excited about this one.  Thom said he thought they would make him at some point because they would want to reuse the body mold from Manny Taur.  I wonder if this is that mold.  We will have to get one to see.
The Second Monster High offering is a Ghostbusters Frankie Stein!  I LOVE this!!!  She ain't afraid of no ghost–of course she wouldn't be as some of her friends are ghosts… The little Slimer is cute though.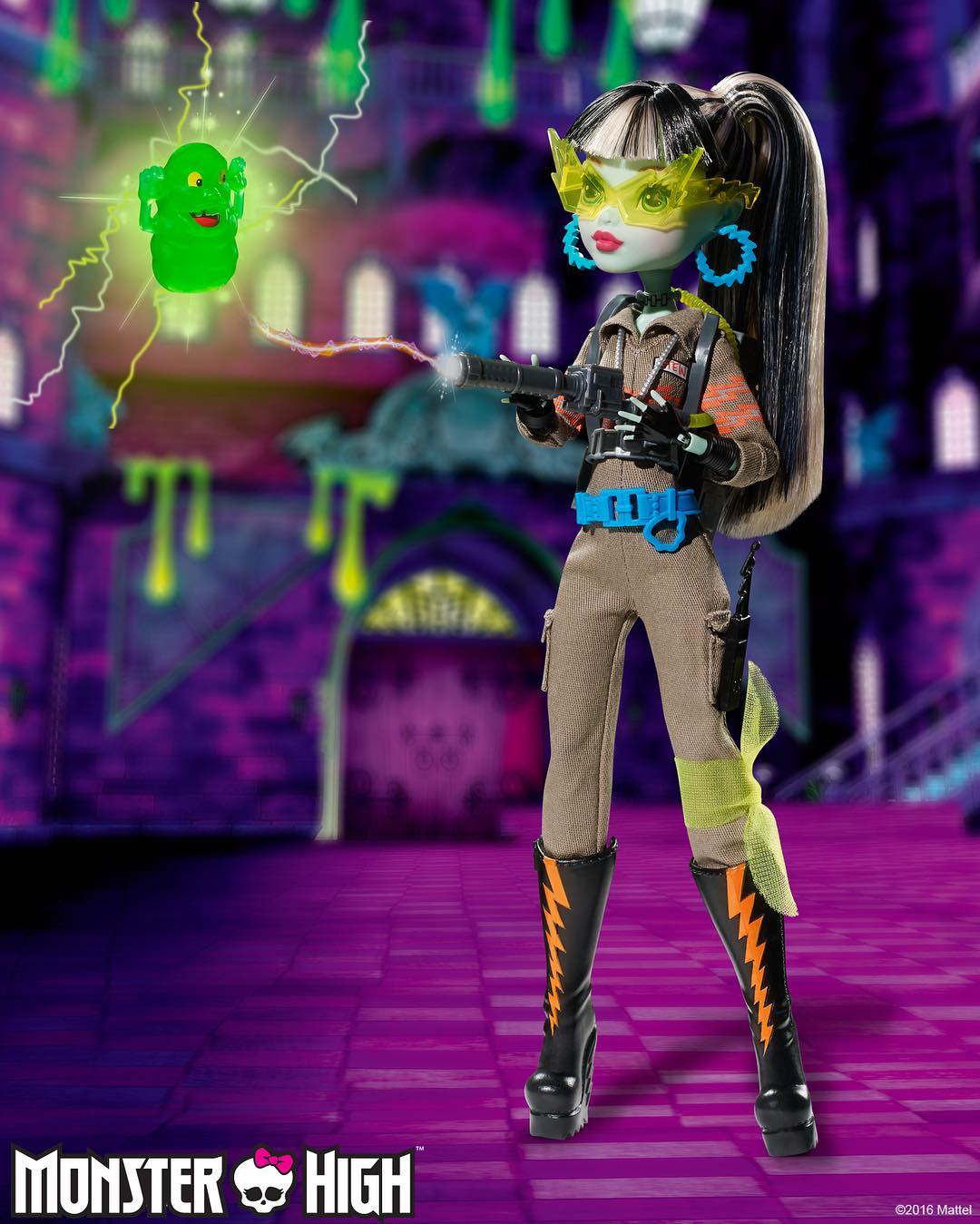 The Ever After High Exclusive is a Cedar Wood doll.  Since her father is Pinocchio they made her into a marionette!
(images from zombuki.wordpress.com)
(photos from cupidca)
I have to admit.  I find her kind of creepy.
In the past they have had exclusives for both lines.
Here is a flashback of them starting back in 2010.
Black and White Frankie Stein- 2010, Nekrocon Ghoulia Yelps 2011, and the Scarah Screams Hoodude 2 pack 2012
I don't feel too bad that I missed out on the first one.  But I really wish I had gotten the Ghoulia one and the Scarah/Hoodude one for my daughter.  I did make her a Hoodude once(you can see that here), but I wish they would re-release an official version.
(photo from Chantal on flickr)
From an earlier blog post   Wydowna Spider as Webarella) 2013   Thanks to a friend we were able to get her (this is our photo)  My daughter was upset when she wasn't chosen in the vote for the 2012 doll, so when this version came out we got it for her.
In 2014 we were back to another 2 pack.  This time Manny Taur and Iris Clops (I am thinking the new Mr. Steam mold is the same as Manny's)   We do have this one too.  Again, thanks to the same friend.  My daughter loves these and plays with them often.
(photo from tbhouseinc)
Last Year ( 2015) there were 2 Monster High offerings.  First was a 2 pack with Valentine and Dijinni Whisp Grant.  My daughter really wants this one (she doesn't know we do have it but she hasn't gotten it yet)  She had wanted a Valentine doll ever since she saw the "Why Do Ghouls Fall In Love" movie.
And a vinyl Nefera De Nile Boo York figure
(photo from monster high ghostly gossip)
Ever After High had a couple of previous exclusives.  These dolls seem to take the fairy tale characters and give them an alter-ego on the dark side.  The first one appeared in 2014.
2014 we had Cerise Wolf
Last year there was the gorgeous Raven Queen doll
(photo from idlehands1)
If you missed these you can still get them through places like Amazon and Ebay.